Rhea is the second larget moon of Saturn and named after Titan Rhea, of ancient Greek Mythology. It was discovered in 1672 by Giovanni Domenico Cassini. 
Terraforming Rhea would require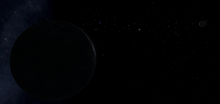 creating an atmosphere possibly using SF6 (better known as Sulfur Hexaflouride).
Community content is available under
CC-BY-SA
unless otherwise noted.